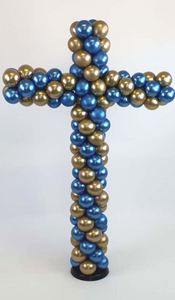 Mini 5 Inch Balloons. Approximately 1.8m x 1m
Perfect for any religious celebration, from Christenings to Confirmations. This design comes on a self supporting frame and base. It doesn't need to be hung at all. Perfect to stand next to a cake table or entrance.
Prices start from $110.00*
*Available for delivery with additional fee, please contact us for more information.